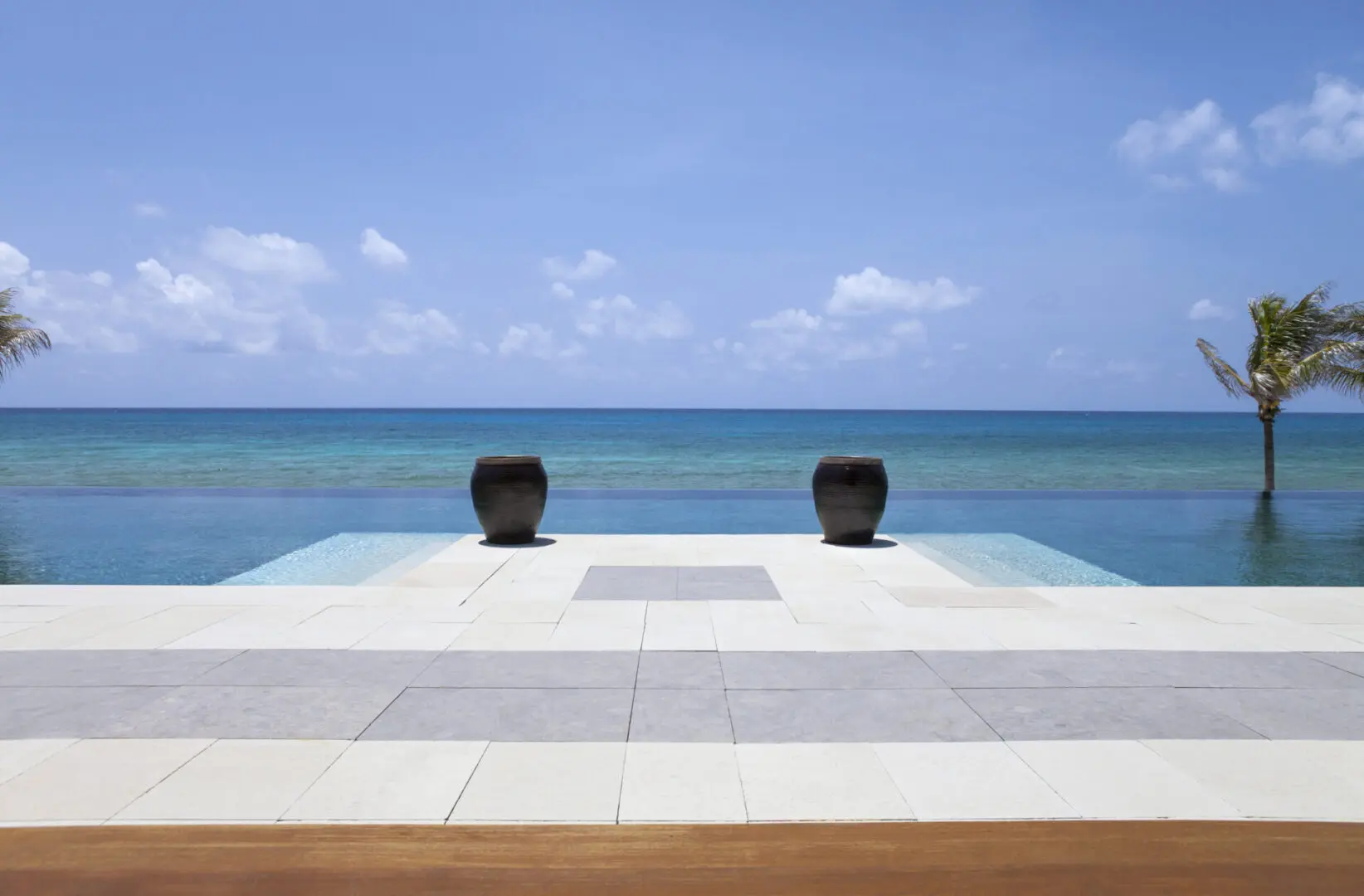 Nandana is located directly on a clear turquoise blue water bay at the far West End of Grand Bahama Island. The estate is set within an exclusive gated enclave offering the ultimate in privacy and security.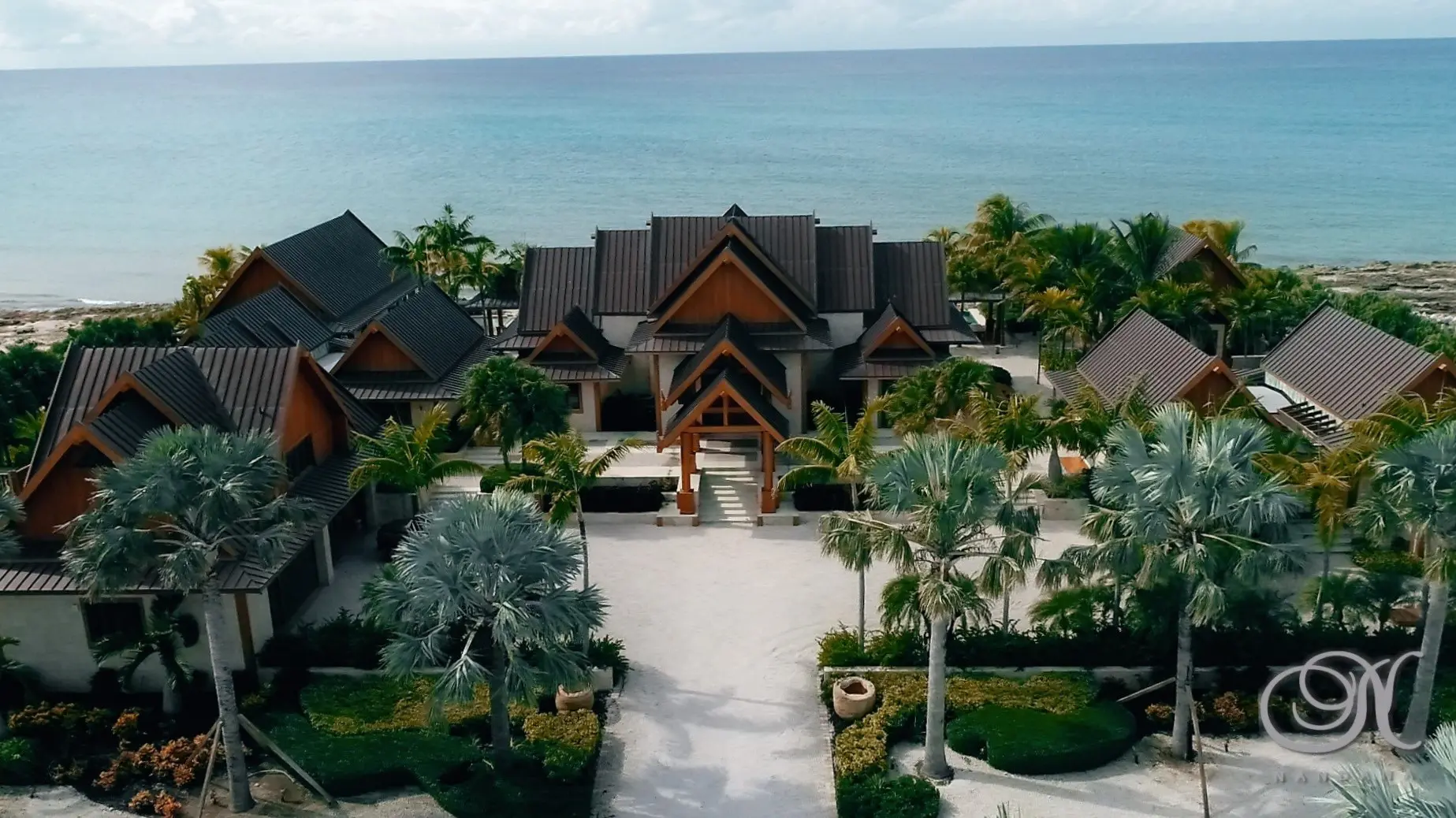 "Nandana" (which means Paradise in the ancient tongue of Sanskrit) is a large luxury estate on a secluded beach near West End, Grand Bahama. Our luxurious and exceedingly private villa compound is a fully staffed island home specifically created for intimate gatherings of up to twelve family members or friends.
Nandana goes beyond the traditional villa vacation by providing guests with a wide range of luxury resort services, amenities, and activities. These include gourmet cuisine, on-site masseuse and full spa services, 120′ infinity pool, Jacuzzi, Jet Skis, ATVs, nearby golf course, beach volleyball, and more.
Designed by a renowned architectural firm in an Asian beach house style, the property is comprised of six separate buildings. A spectacular main house with soaring 40′ ceilings is surrounded by five richly-appointed and free-standing bedroom suites. The interior of the property has been constructed entirely of natural materials, with massive amounts of imported Burmese teak covering the floors, walls, and ceilings and natural stone forming most other surfaces. A professionally designed lighting system has been installed to emphasize the property's many distinctive architectural features.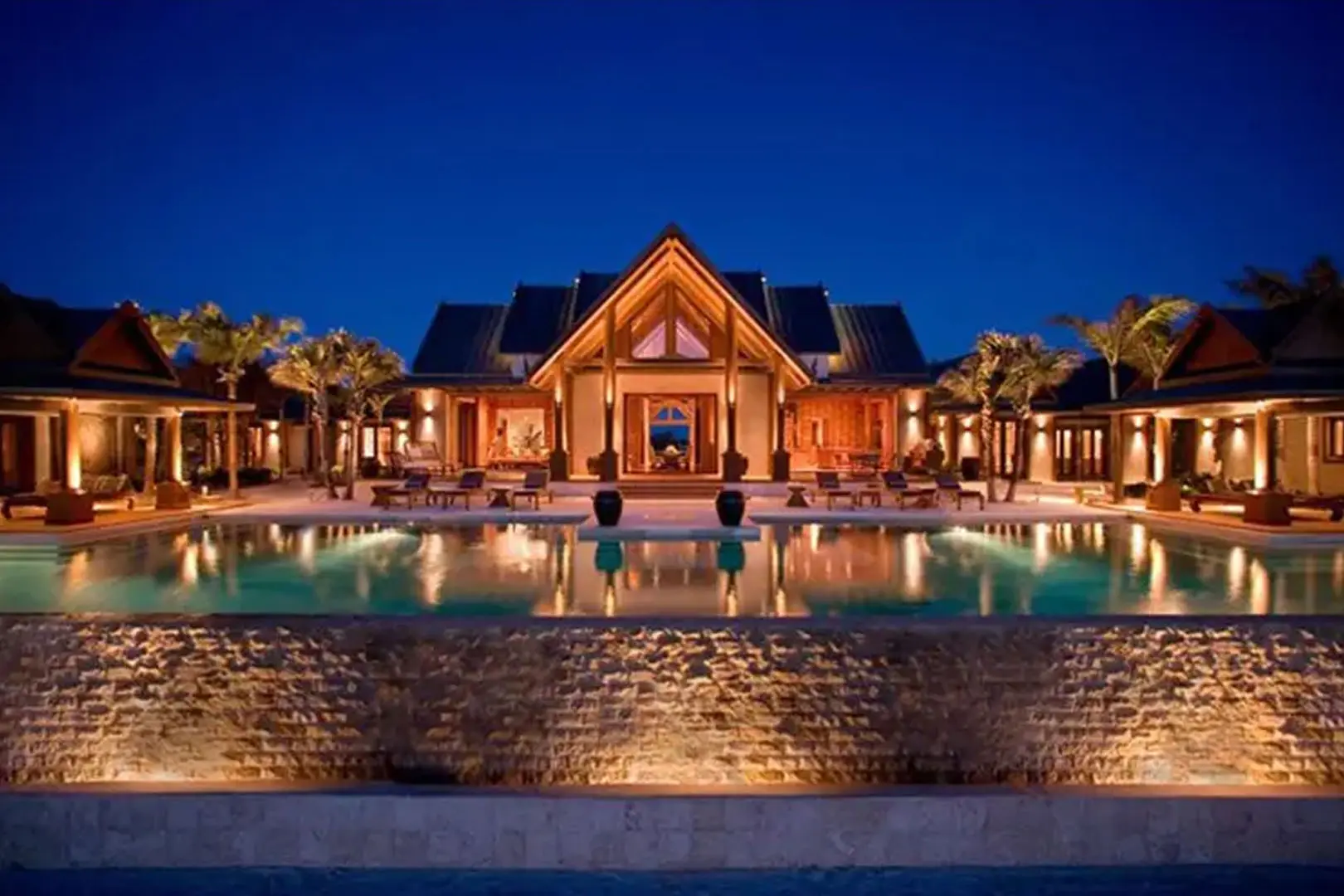 The buildings are centered around a glittering 120′ long infinity pool with a waterfall edge dropping to a private sandy beach below. A separate large outdoor Jacuzzi is located overlooking the beach, and the entire compound is shaded by over 300 imported palm trees and tropical plants. The property is bounded in the front by the ocean with a protected sandy beach and in the rear by a deep water canal with private docking facilities for yachts up to 115′ in length.
The main building contains the primary socializing areas, including living areas, dining room, kitchen, bar, and glass-enclosed wine room.
Standing on either side of the main building and directly on the beach are two exceptionally large one-bedroom Pavilion suites. Each is in excess of 1000 square feet and contains a luxury bath with a tub, indoor/outdoor shower, walk-in closet, writing desk, mini bar, and private sundeck with chaises overlooking the sea.
A few steps back from the beach, amidst gardens of swaying palms and tropical greenery, are two one-bedroom Bangala (bungalow) suites. Each Bangala Suite offers more than 750 square feet of luxurious living space with a bedroom, sitting area, large bath with indoor/outdoor shower, writing desk, and mini-bar.
Along the canal, under swaying palms, rises our 2000-square-foot luxury air-conditioned safari tent with a separate bedroom, bath, and living area. The tent is fully furnished and contains the same TV, wireless internet, and other services as the Pavilions and Bangalas.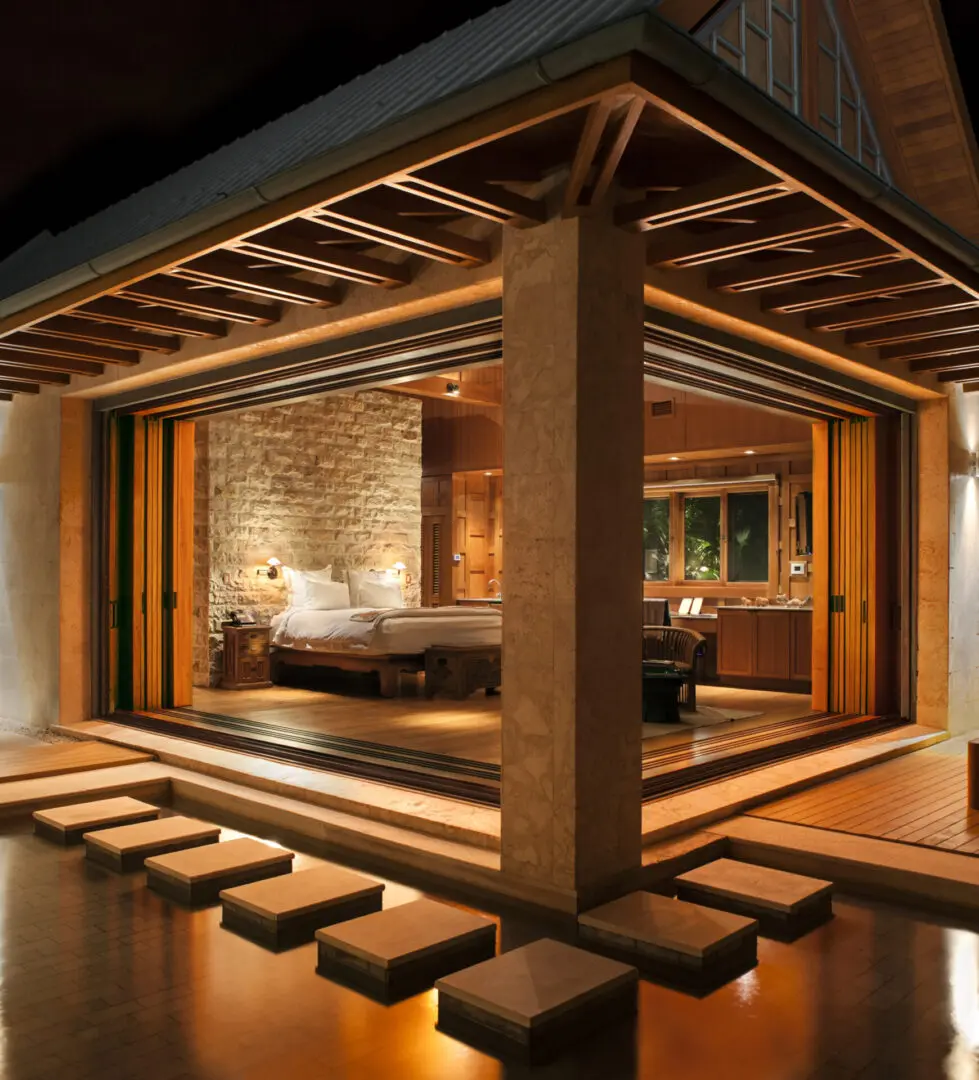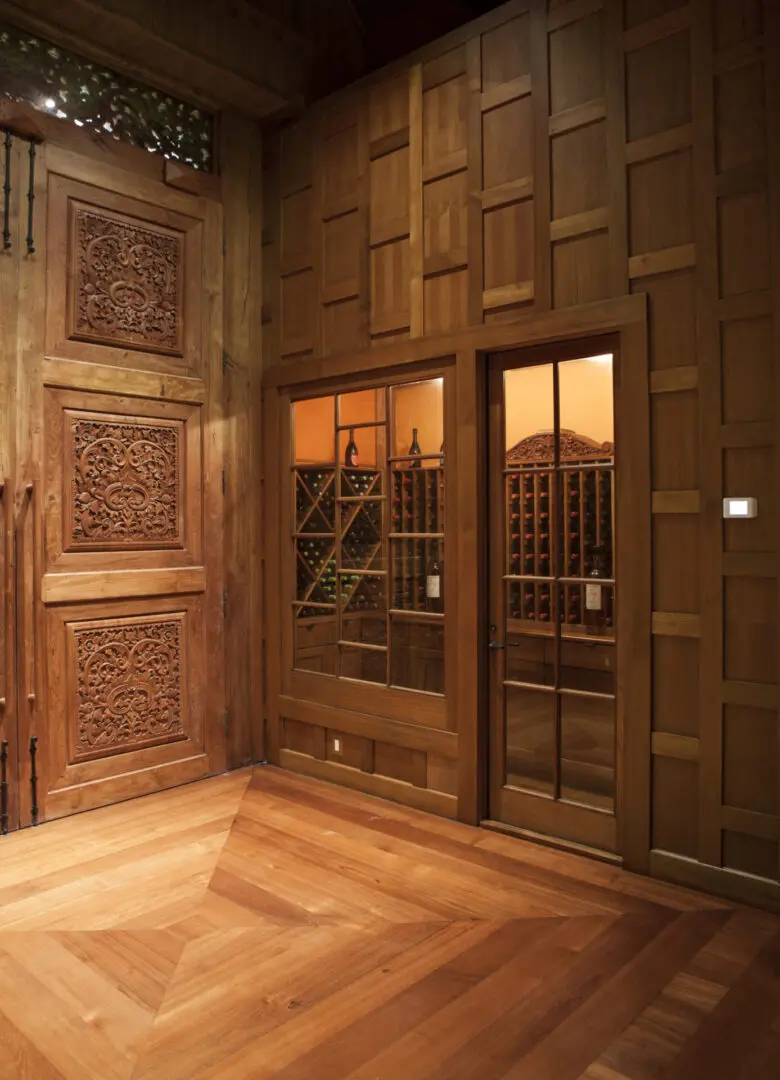 Entertainment & Amenities
Nandana's suites and the tent contain remote-controlled flat-screen satellite and cable TV, iPod docking stations, and stereo. All suites have computer-controlled lighting, air conditioning systems, and security systems.
The entire property, including all bedrooms and living area rooms, pool, etc., has wireless internet service. The property also includes a gym with state-of-the-art cardio and weight equipment and a business center with full office facilities (satellite and cable internet, fax, etc.) A private masseuse is on staff offering Asian-style massage and other spa services, day or evening. Tennis courts are located within walking distance.
At Nandana, a full range of indoor and outdoor activities lie at your fingertips. A 50′ deep sea fishing yacht, a 15' inflatable tender, jet skis, off-road all-terrain vehicles, fishing gear, snorkeling equipment, bicycles, volleyball, CD, and DVD libraries are all located at the property and available for guest use. A golf course is just a short drive away, and a full range of adventures, including private air charters to neighboring islands, picnics on deserted island beaches, world-class bone fishing, scuba, swimming with dolphins, shark diving, casino nights, and more, are easily arranged.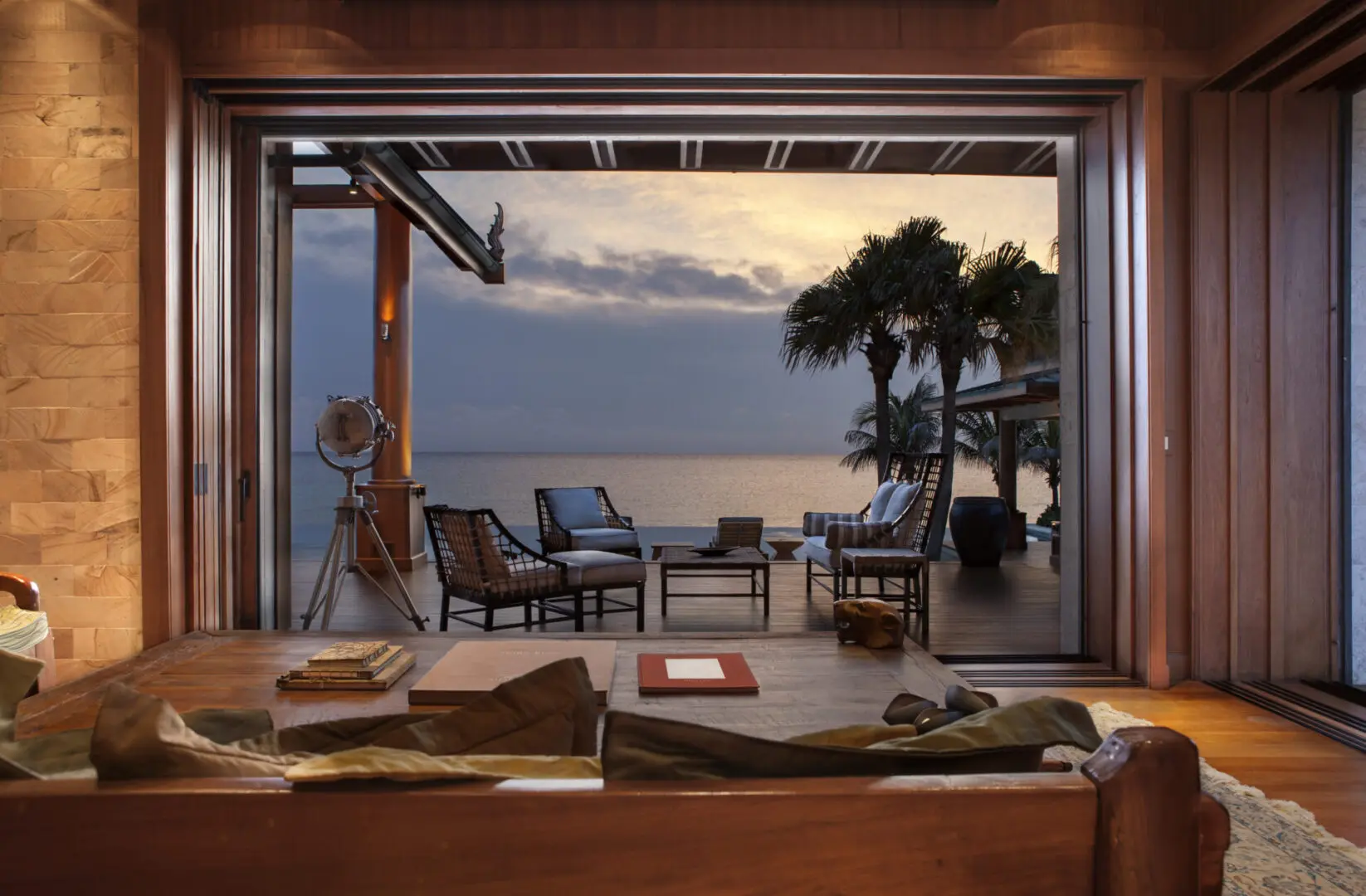 Nandana is a super-deluxe, oceanfront estate located in the exclusive West End of Grand Bahama Island. A stunning blend of East and West, this magnificent and exceedingly private island home has been specially created for intimate gatherings of family or friends. Together, the four richly appointed bedroom suites and custom-made safari-style bedroom tent can accommodate groups of up to 12 persons in complete and total comfort.
Up to 6 persons per night:
Jan. 3, 2023 - Nov. 16, 2023: $8,500 per night
Nov. 17, 2023 - Dec. 4, 2023: $11,500 per night Dec. 5, 2023 - Dec. 14, 2023: $ 8,500 per night Dec. 15, 2023 - Jan. 2, 2024: $14,000 per night 
Up to 12 persons per night:
Jan. 3, 2023 - Nov. 16, 2023: $11,500 per night
Nov. 17, 2023 - Dec. 4, 2023: $13,500 per night Dec. 5, 2023 - Dec. 14, 2023: $ 11,500 per night Dec. 15, 2023 - Jan. 2, 2024: $15,000 per night 
Rates are in US dollars and include exclusive use of Nandana's facilities. There is an additional charge for food & beverage, chef, massage and spa services, use of Lioness fishing yacht with Captain and mate, and outside activities. A resort fee of 15% (for services including airport transfers and use of equipment and facilities provided by Nandana) is also charged 12% tax applies.
Please note, our staff is paid salaries and bonuses substantially higher than local norms intended to cover service and gratuities. While guests are free to do as they choose, no additional gratuities are required.
Nandana provides guests with the option of a full meal plan for an additional fee which includes all meals and beverages (excluding alcoholic beverages). Meals are prepared by Nandana's award-winning chef, who will customize each menu to meet your desires. Any specialty ordered food will be billed as an additional charge. For guests who do not select the meal plan, chef and chef services are not provided, and a fee of 15% for food or beverages brought by guests is charged. For guests who wish to bring their own alcoholic beverages, a corkage fee of $20 per bottle will be applied.
Please contact our concierge for additional details.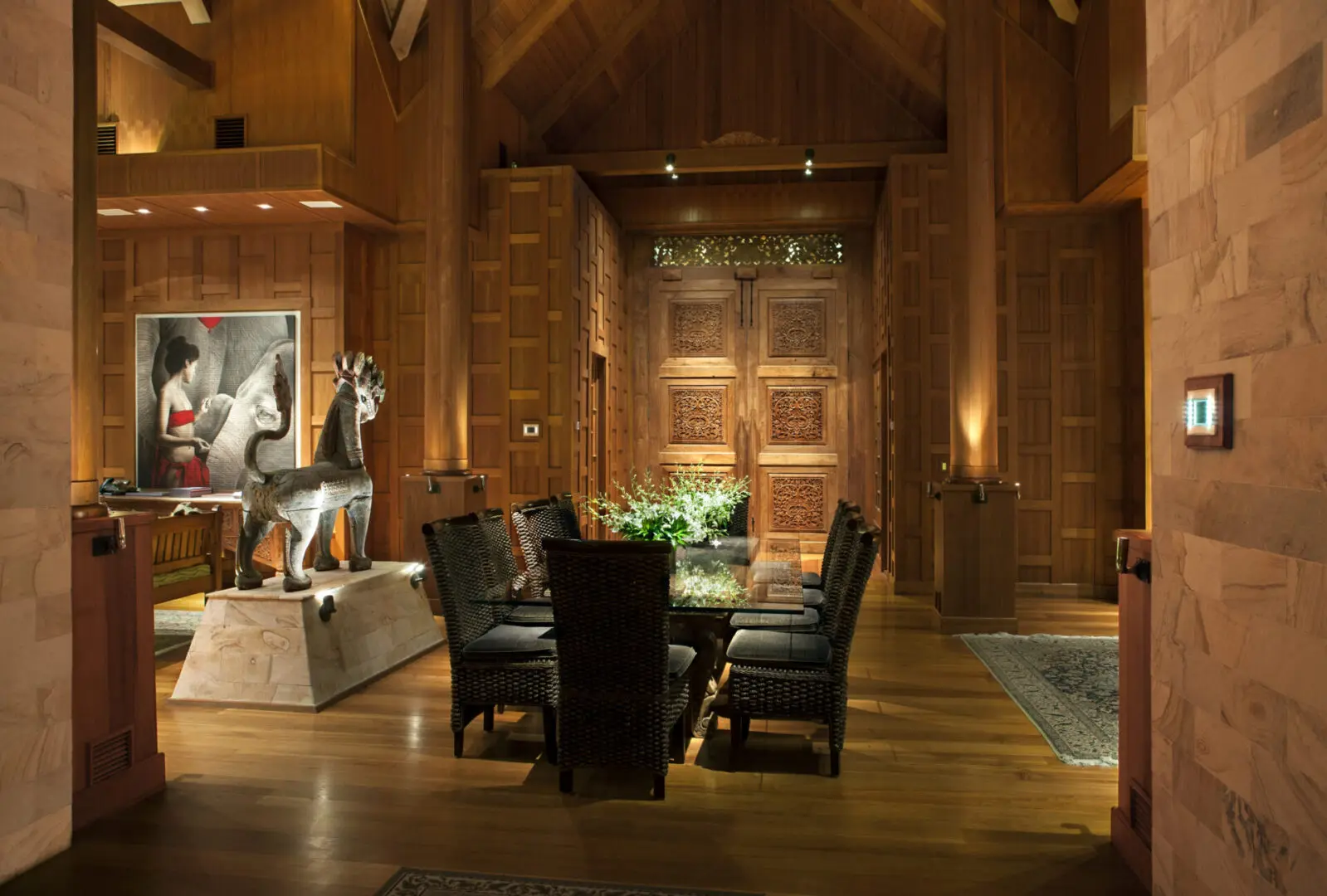 Extra charges apply for the use of the sports fishing yacht and spa services. Golf, yoga, horseback riding, scuba diving, and shark and dolphin trips are arranged through independent service providers for an additional charge.
Use of Motorized Vehicles
and Boats
Bahamas law requires that golf cart drivers be licensed to drive and at least 18 years of age. All drivers of ATVs, jet skis and boats must be at least 18. Nandana Drivers are provided for all Land Rovers.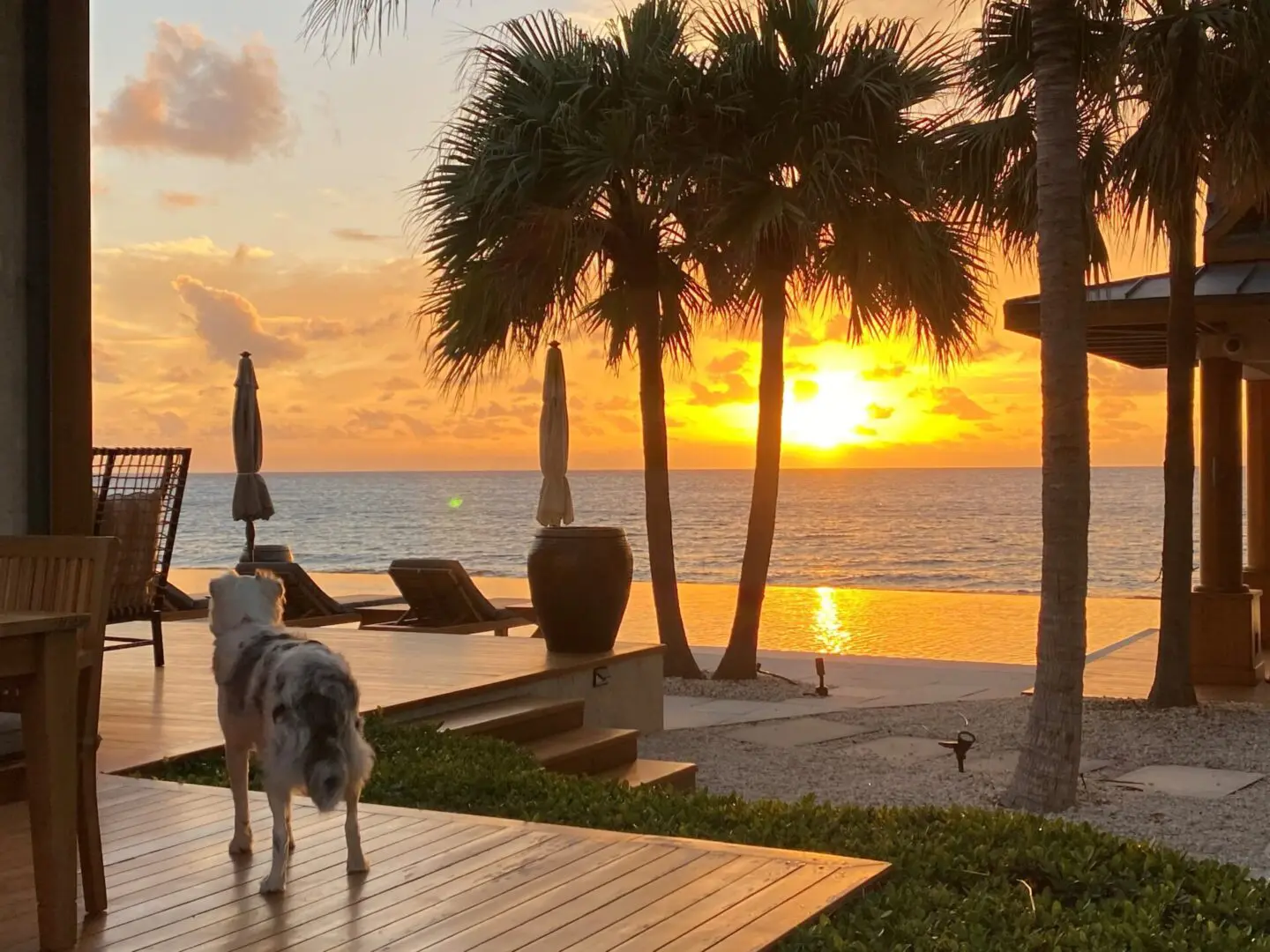 To discover more about the Nandana experience or to review reservation rates and policies, speak directly with our concierge by calling        (877) 410-2370 (Toll-free from the US) or (212) 621-0350 (Dialing Internationally). Rates are subject to change without notice. Please note that Nandana is a non-smoking villa, and pets are not allowed - well most pets anyways.